Two seminars have been organised by CASE to run on the same day – November 7th.  The morning session is "The Only Way is Ethics" and is designed to stimulate discussion and thought about how companies can (and do!) embed an ethical approach to doing business and the pitfalls and positives of doing so.  The second is "Who Cares for the Carers?" and is aimed at owners of care companies and homes, their employees and volunteers who care for family members, friends and neighbours and are often unpaid.  The two events, which will be held at the Phoenix Cinema, 4 Midland Street
Leicester, LE1 1TG, 
The events are free to attend and people may wish to attend both.  Tickets for both events can be booked here:
The only way is ethics
https://lbf2018.ticketleap.com/the-only-way-is-ethics/dates/Nov-07-2018_at_1000AM
Who cares for the carers
https://lbf2018.ticketleap.com/caring-for-the-carers—meeting-the-challenges-of-the-care-sect/dates/Nov-07-2018_at_0200PM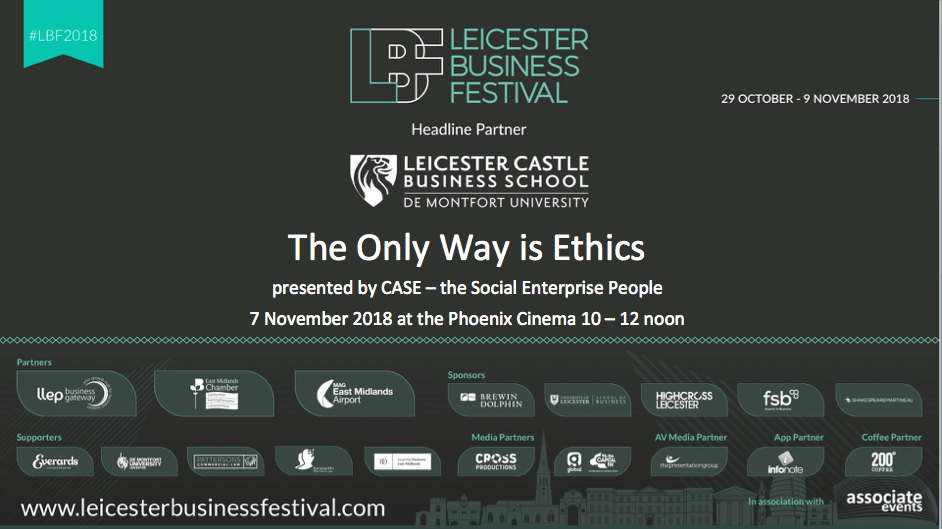 The Only way is Ethics
We are all familiar with the language of doing good business…Corporate Social Responsibility…..Business in the Community…..kite marks, Standards and stars, but are these just clever marketing tools or can real value, both to the business, employees and the community by added if a company adopts a non-negotiable Ethical stand – or are these companies making a rod for their own backs which costs money and reputation if the halo slips?
To stimulate the discussion we have invited Tracey Orr, Support Services Executive of Central England Co-operative to give a presentation about how one of the largest employers in the region lives by a code of Values and Principles which are embedded in its constitution, whilst competing in one of the toughest retail environments.
We have also invited Simon Allen, Senior Adviser and Conciliation Manager from the Advice, Conciliation and Arbitration Service, to give a presentation of his perspective on resolving conflict that arise (and could be avoided) when an unethical approach to employment – from Employers and Employees – is used.
To add to the debate, Gavin Miller, Regional Secretary from Community Union will talk about his work in supporting employees and their employers to develop an ethical approach to work.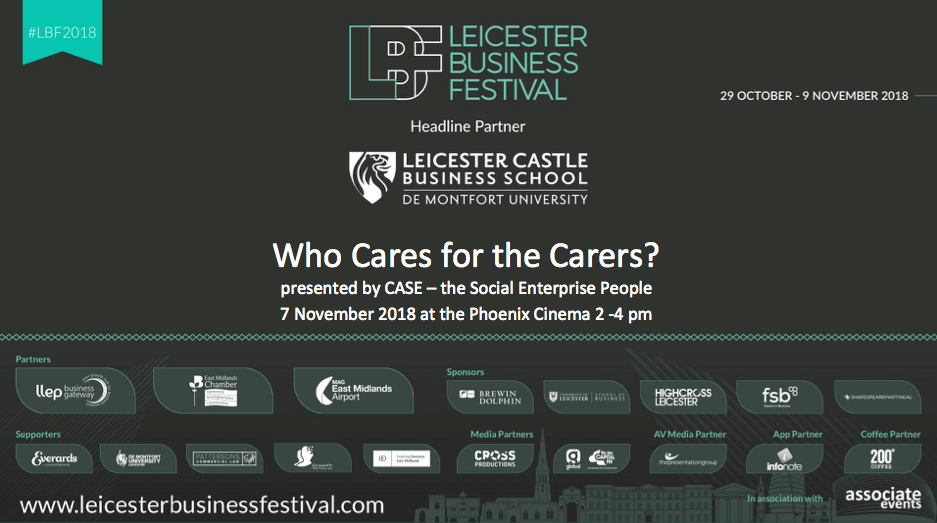 Who Cares for the Carers?
The social care system is straining at the seams to cope with an ageing population, reducing public sector budgets, a traditionally low paid sector – but one that needs people with skills and integrity to work with some of the most vulnerable people in our communities.  How can we square the circle of providing more, with less – and who pays for this policy?
Are you a Care provider owner or manager?  Do you work in the Care sector, or are you voluntarily providing a care service for someone?  You are warmly invited to come along and take part in this lively discussion.  We may not have the answers, but we might begin to work towards some solutions.
Mike Hajj is Director of Cassa-Assura.  Mike works with over 60 care homes, primarily on Deprivation of Liberty cases, but has a wealth of experience (and views!) on the sector from previous employment with Leicestershire Cares Partnership Trust.
Les Bayliss is the National Officer for Community Union.  Community represents a growing number of care workers and crucially Care managers and owners of care companies.  Les is passionate that the needs of the care sector are heard and met at Westminster and lobbies hard on behalf of the members for change in the sector
Simon Allen, Senior Adviser and Conciliation Manager from the Advice, Conciliation and Arbitration Service will be speaking on themes relating to the care sector that ACAS deal with – and how to avoid them.