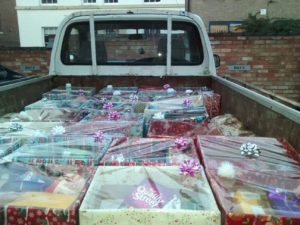 Now in its third year of operation, the CASE Christmas Appeal collects food and sundries to be packed into hampers and distributed by the Zinthiya Trust Foodbank, a division of the Tomorrow Together social enterprise, over the festive period.
With support from Kaplan Financial (who donated over £100) Clockwise Credit Union (who collected several boxes of donations from staff members) and Green & Pleasant Wholefood Shop on Queens Road (who collected items of food and encouraged their customers to donate their small change), plus the overwhelming generosity of local co-operatives, the appeal received hundreds of items of food and everyday essentials to help those in need.
As always, CASE put out the call to arms to the local co-operative community, asking for help to pack and decorate the hampers ready for them to be handed over.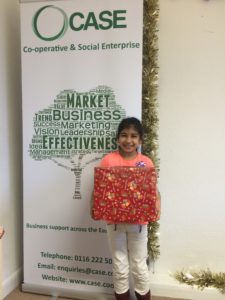 We were not left wanting as over two dozen people dropped in over the course of the afternoon to prepare hampers. We have two very special mentions from the day. The first goes to Jessica Sitaram, pictured left, who at just seven years old has attended every hamper packing party held by CASE and looks forward to helping out each year. The second goes to Nick Sharpe of Nifty Thinking Co-operative, who is also a stalwart of every packing party and makes it his personal mission to arrive armed with bags of goodies to ensure that each hamper contains several treats.
All of our helpers were incredible, using their creative skills to create beautiful hampers. In fact, they helped us to create so many that we needed to get a pick up truck, as seen above, to collect them all!
We would like to thank everyone who contributed to, or helped to raise awareness of the appeal and to everyone who came along and helped on the day.