At CASE we take grea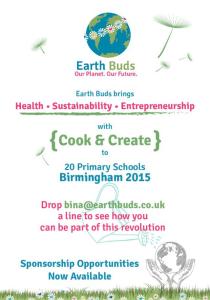 t pride in sharing the success stories of our clients. Today is no exception as we take a look at Earth Buds' nomination for an award from the Birmingham Chamber of Commerce.
Earth Buds is a social enterprise teaching children about healthy food and sustainable eating. Set up by Bina Sitaram three years ago Earth Buds has already accumulated a series of awards. Tonight Bina takes Earth Buds to a prestigious black tie awards dinner at the Birmingham Chamber of Commerce where the business has been shortlisted in the "Excellence in Sustainability" category. Earth Buds faces some tough competition as both Network Rail and Mondelez International (owner of the Cadbury brand and largest cocoa buyer in the world) are also vying to take the sustainability award home.
Earth Buds is expanding its healthy eating programme, Cook and Create, into schools in Birmingham and Bina plans to use the awards event as a promotional tool for the programme, handing out business cards with a difference; seed packets printed up as business cards (see left) which will publicise the programme and highlight the sponsorship opportunities available.
Keep an eye on our blog over the next few days as we let you know how Earth Buds fares at the awards ceremony and for pictures from the event.
To read the Birmingham Chamber of Commerce article about Earth Buds please click here and to find out more about the Excellence in Sustainability awards category click here.