This is the last of our seven-part series detailing the principles that form the foundations for how co-operatives across the world operate. This week we take a brief look at Principle Seven: Concern for Community. You may find it useful to read our previous blog about the history of the co-operative movement and the Rochdale Pioneers.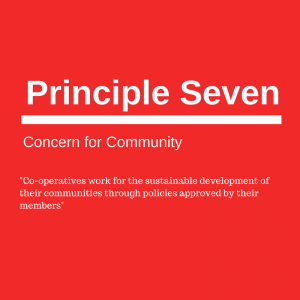 Principle Seven is a "recent" addition to the co-operative principles, having only been adopted during the 1966 International Co-operatives Alliance Congress.
Originally set out in the position of Principle Six, the intent of this rule was laid down as follows:
"All co-operative organisations, in order to best serve the interest of their members and their communities, should actively co-operate in every practical way with other co-operative at local, national and international levels. "
Concern for Community became known as Principle Seven following the ICA Congress and General Assembly which took place in 1995. This change also included a re-wording, leaving us with Principle Seven as it is known today.
"Co-operatives work for the sustainable development of their communities through policies approved by their members."
During 2012, which was the United Nations' International Year of Co-operatives, the National Co-operative Grocers Association (a collective based in the United States of America) travelled across the US to produce a series of short videos to showcase Principle Seven in action.
The videos are available at www.strongertogether.coop and can be accessed by clicking here.