This is the sixth of seven blogs detailing the principles that form the foundations for how co-operatives across the world operate. This week we take a brief look at Principle Six: Co-operation amongst Co-operatives. You may find it useful to read our previous blog about the history of the co-operative movement and the Rochdale Pioneers.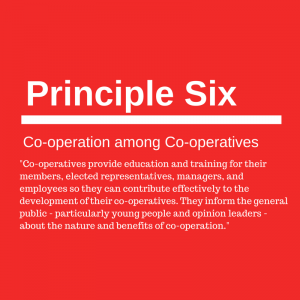 Principle Six focuses on strengthening and developing the co-operative movement by "working together through local, national and international structures".
Elizabeth Archerd sums up this Principle perfectly in the Co-op Consumer News:
"By recognising that we are more alike than different, and that we share a vision of community control over our economic destiny, we can accept the differences between us without feeling divisive. Co-ops joining together to get better deals, eliminate duplicate costs, expand services to members and strengthen the movement as a whole – these are just a few benefits that come from following the sixth principle".
Principle Six in practice
In 2010 a group of American grocery co-operatives banded together to form P:6 The Co-operative Trade Movement to promote good-quality products produced by local suppliers.
Visit http://p6.coop/ to find out more