This is the fifth of seven blogs detailing the principles that form the foundations for how co-operatives across the world operate. This week we take a brief look at Principle Five: Education, Training and Information. You may find it useful to read our previous blog about the history of the co-operative movement and the Rochdale Pioneers.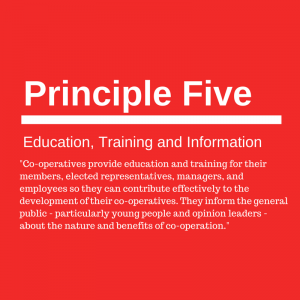 Education has always been a priority within the co-operative movement, dating back to 1854 after the government Registrar allowed co-ops to set aside money for education.
In the early stages the Pioneers focused their attention on providing education through classes, lectures, newspapers and library access, providing their members with the skills they needed to progress to better jobs.
Later, as public education began to take over this role, the Pioneers shifted their attention to educating people in the ways of co-operatives.
This commitment to on-going education by the Pioneers was one of a select few to appear in the Almanac produced in the 1860s in a list of rules of conduct that would go on to form the Rochdale Principles.
In the first revision of the Principles by the International Co-operatives Alliance (ICA) in 1937, this principle was known as "promotion of education", appearing as Principle Seven.
A further revision by the ICA in 1966 saw the principle of "education, training and information" take shape into the way it is known today, moving into its current position of Principle Five.