This is the fourth of seven blogs detailing the principles that form the foundations for how co-operatives across the world operate. This week we take a brief look at Principle Four: Autonomy and Independence. You may find it useful to read our previous blog about the history of the co-operative movement and the Rochdale Pioneers.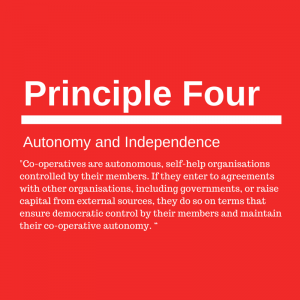 In its original form Principle Four was known by the Pioneers as "payment of limited interest on capital".
The intent of the Pioneers was to see that while capital was rewarded, the majority of the profits received would be paid through dividend as a reward for using the co-op. Shares in the co-op were also maintained at a set value, rather than the value of the shares being related to profitability in the marketplace.
Members were encouraged to provide their own capital as a way of retaining economic freedom from the money lenders of the day.
Following a rename by the ICA in 1966, Principle Four was established as "Autonomy and Independence".