This is the second of seven blogs detailing the principles that form the foundations for how co-operatives across the world operate. This week we take a brief look at Principle two: Democratic member control. You may find it useful to read our previous blog about the history of the co-operative movement and the Rochdale Pioneers.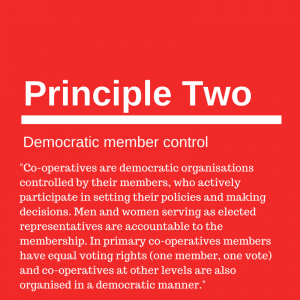 Principle two was introduced into the rules laid down by the Rochdale Pioneers in 1845 as "democratic control (one man, one vote)".
Despite the wording of this rule, the Pioneers were firm believers in democracy for all, regardless of gender.
As one of the first organisations to allow women to own property, the Pioneers' Co-op made it clear that both men and women were equally eligible to own shares in the store.
In 1966, the International Co-operatives Alliance revised the wording of Principle Two, with the following statement:
"In primary co-operatives, members have equal voting rights (one member, one vote) and co-operatives at other levels are also organised in a democratic manner."