This is the first of seven blogs detailing the principles that form the foundations for how co-operatives across the world operate. This week we take a brief look at Principle one: Open and voluntary membership. You may find it useful to read our previous blog about the history of the co-operative movement and the Rochdale Pioneers.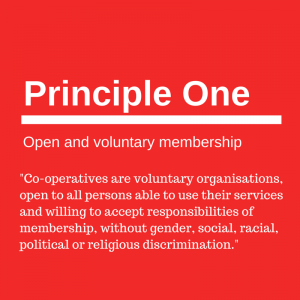 Principle one highlighted a major difference between the ways that the Rochdale Pioneers operated and the ways in which other organisations in the 1840s were run.
Nearly all organisations that existed at this time had memberships whose benefits would only go to those members who were of the "right" class, gender or religion.
The Rochdale Pioneers had a vision that exclusions shouldn't be applied to those who didn't "meet requirements", and opened up their membership to everyone. This ensured that all members, whether they were new or old, paid the same amount to join the business and received the same benefits.
This practice of co-operatives opening up their membership continues to this day. There are many different co-operatives in Leicester which are invite members of the public to become members of the organisation. One of the most well-known of these is Central England Co-operative, which invites its customers to become members, enabling them to vote in board elections, have a say in how the business is run and receive a bi-annual dividend on profits.
A revision by the International Co-operatives Alliance in 1966 reworded Principle one (originally recorded as "Open membership") to read as "open and voluntary membership".